Huda Beauty has been on point from lashes, to eyeshadow palettes to her new Foundation.  If you add up every item it can get very pricey if you are like me you might want to try a few but consider which one can be better if it was a dupe.. That being said I do like her story and how far Huda Beauty has come,  her nice personality and willing to think of every skin type has made her a special person in my heart.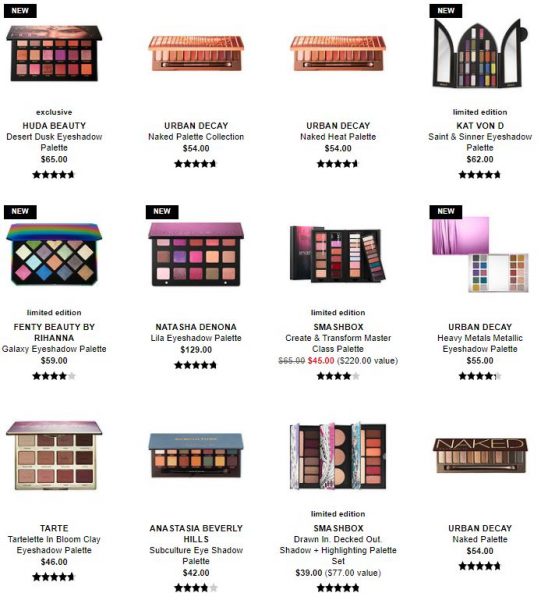 Well, back to this dupe..
Is hard to keep up with so many nice eyeshadow palettes we have available just this year alone from Huda Beauty, Anastasia Beverly Hills, Kat Von D, and Urban Decay just to name a few..
The prices can be overwhelming and sometimes you just have to pick and choose which one might be the best one to invest on.
I really like Huda Beauty specially after trying out her foundation which I will share more my First Impression on a later post but thinking it through I didnt want to spend over $60 on a palette that brings 18 colors (yes it could be a worth buy, yes it can be very pigmented, high quality and a great name to go behind it) but I prefer to spend that amount on something else – that is just me..
I saw a video of a dupe for the Huda Beauty Palette, the video was so impressive as the model was applying Huda Beauty Palette on one eye while applying the dupe palette on the other. I was so impressed how on point the make up was that I knew this dupe was worth trying.
The Huda Beauty Rose Gold palette contains:
6 x 3D Metal eye shadows in Dubai (a smoky bronze), Fling (a sparkly cranberry), 24K (a lavish gold), Rose Gold (a lustworthy rose gold), Trust Fund (a ritzy copper) & Blessed (a vintage gold).
2 x Chromatic pressed pearls eye shadows in Angelic (a sweet pink with gold reflections) and Moon Dust (an astral gold illumination)
10 x Saturated Matte eye shadows in Bossy (a statement-making maroon clay, Flamingo (a dashing notice-me pink), Shy (a delicate dusty pink), BAE (a cream-colored base shadow), Black Truffle (a decadent black – wet your brush for the darkest liner), Suede (a smooth transition gray), Coco (a bark brown), Maneater (a ruthless mulberry), Henna (a warm reddish-brown) and Sandalwood (an earthy deep tan).
Aphrodite Eyeshadow Palette Bad Habit:
Inspired by the Greek goddess of love and beauty, this eyeshadow palette features 18 shades in a range of deeply saturated mattes, richly textured metallics, and uniquely pressed pearls. Cruelty-free.
Comparing Colors:
Aphrodite palette colors            Huda Beauty palette colors
(1st color) Sparkle                        (3rd in 1st row) 24K
(4th in 1st row) Flirt                     (3rd in 2nd row) Flamingo
What is the price difference?
Huda Beauty Rose Gold Eyeshadow Palette – $65 (no longer available)
Aphrodite Palette $10
How can you purchase any of the palettes?
You can purchase this item at Sephora (link provided) Huda Beauty Desert Dusk Eyeshadow Palette – $65
You can purchase this item at Shop Hush (link provided) Aphrodite Bad Habit Eyeshadow Palette – $10
Conclusion:
The process with Shop Hush was fast delivery I was aware of my order status and once I received it the packaging was better then most palettes I purchased at the drugstore so for $10 I am loving this item.
You can also watch my video as I swatch and share my comments on this unboxing item.. You can watch Here
You can also watch my first impression with the Huda Beauty Foundation here.