Huda Beauty Rose Gold Remastered Eyeshadow Palette
Huda Beauty Rose Gold Eyeshadow Palette was a fave & must have item at least from what you can see from videos, articles to store promos.  This palette was quickly a must have item despite the high price it went for – $65, but it quickly went from a rave beauty item to no longer available.  In the mean time if you was like me I purchased the dupe for the Huda Beauty palette instead which at the time went for $10 from ShopHush which you can read more about it here.
I really like Huda Beauty specially after trying out her foundation which I will share more my First Impression on a later post but thinking it through I didnt want to spend over $60 on a palette that brings 18 colors (yes it could be a worth buy, yes it can be very pigmented, high quality and a great name to go behind it) but I prefer to spend that amount on something else – that is just me..
Huda Beauty launched a new Remastered Rose Gold Palette, this palette in the other hand has a bit more to offer.  Starting from the detailed and beautiful packaging, to a nice size mirror, creamier with more intense pigment and talc free eyeshadows.  I truly love a nice size mirror in an eyeshadow palette and that will help consider the price for this high end eyeshadow palette.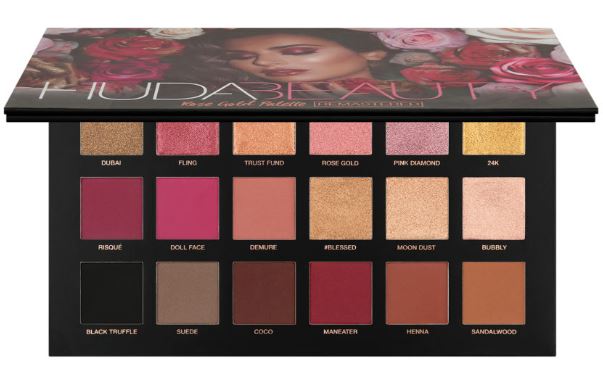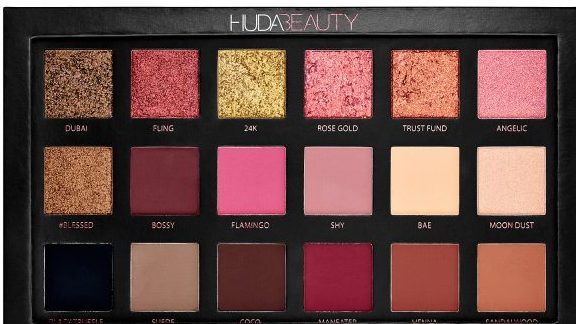 (No Longer Available) The Huda Beauty Rose Gold palette contains:
6 x 3D Metal eye shadows in Dubai, Fling, 24K, Rose Gold, Trust Fund & Blessed.
2 x Chromatic pressed pearls eye shadows in Angelic and Moon Dust
10 x Saturated Matte eye shadows in Bossy, Flamingo, Shy, BAE, Black Truffle, Suede, Coco, Maneater, Henna and Sandalwood.
(New) The Huda Beauty Rose Gold Remastered palette contains:
This set contains:
– 8 x Matte Eyeshadows in Risqué, Doll Face, Demure, Suede, Coco, Maneater, Henna, Sandalwood
– 8 x Melted Metal Eyeshadows in Dubai, Fling, Trust fund, Rose Gold, Pink Diamond, 24k, #Blessed, Bubbly
– Dry & Wet Eyeshadow in Black Truffle
– Pressed Pearls Eyeshadow in Moon Dust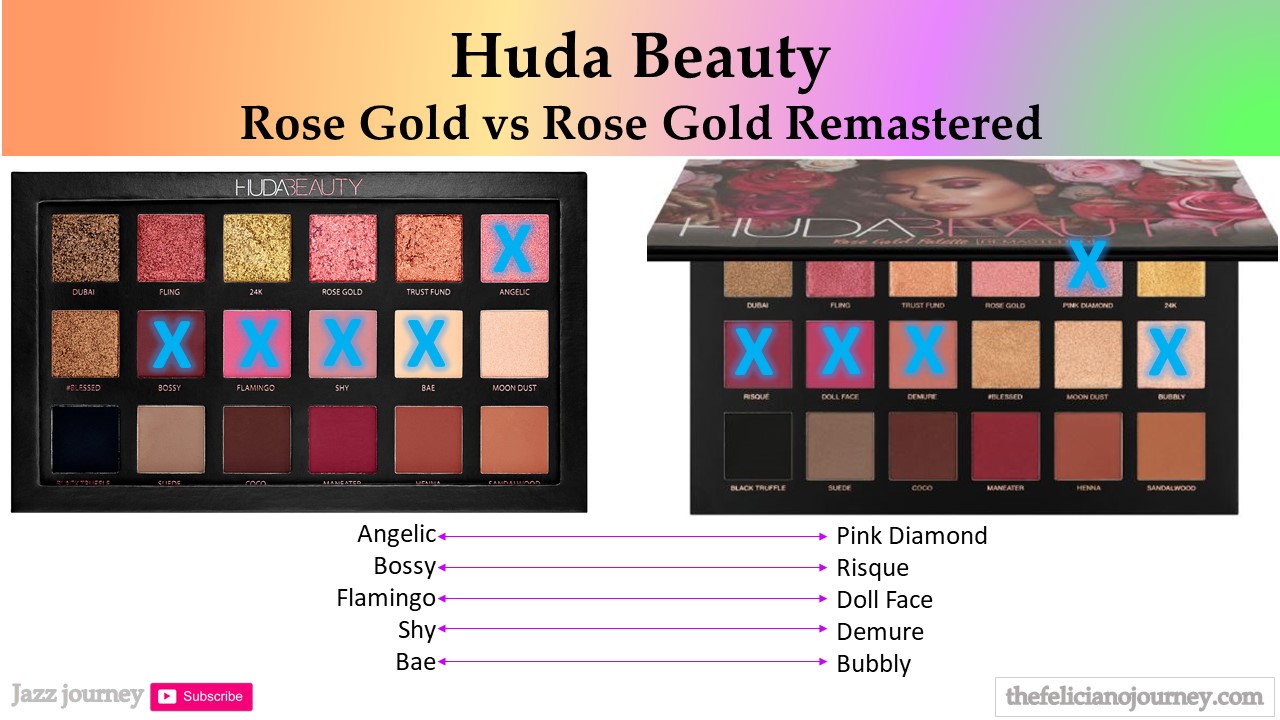 What is the price difference?
Huda Beauty Rose Gold Eyeshadow Palette – $65 (no longer available)
Huda Beauty Rose Gold Eyeshadow Remastered Palette – $65
Conclusion:
If you are starting or need one eyeshadow palette that offers colors that is a must when creating your eye makeup this one could be it.  The colors are well balanced from mattes to metal shadows to a nice black shade.  In addition this beautiful palette from what I seen on videos and pictures it does have a nice packaging and it comes with a mirror..
Since I have the dupe Bad Habit Palette I might consider getting the new Huda Beauty Rose Gold remastered Eyeshadow Palette, what are your thoughts about this item?
You can also watch my video as I swatch and share my comments on this unboxing item.. You can watch Here
You can also watch my first impression with the Huda Beauty Foundation here.