Huda Beauty The Overachiever High Coverage Concealer – Also available in Sephora Online and in Store 10/9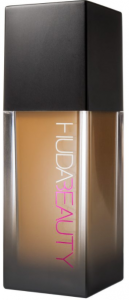 Last year a new foundation was introduced that was sold out for months. It was the Huda Beauty foundation I was able to pick mines up by selecting a few shades that was available luckily it worked perfectly for my skin. After trying it out I can still say is one of my favorite foundations. 
Once I heard about the new concealer from Huda Beauty I thought this could be a great item to purchase.  But first I need to check the claims, benefits and price. Here is a few things I found out about this new product. 
✅What to expect – claims 
Today this new item was released and so far I am a bit interested on getting is the concealer. The overachiever concealer This concealer has a few claims and a nice range of shades. 
The first claim that can make it a wonderful concealer is offering better coverage with a 31% pure pigment. Expecting a more natural look but buildable if necessary. 
The second claim offers skin care ingredients to help soothe and protect the skin. Ingredients like Persian silk tree, Jericho rose extract, green tea and caffeine. 
The third claim and advantage is a different applicator this concealer brings a cooling metal applicator. It will help to de puff and sooth under the eyes. 
✅ Price 
After seeing some of the claims and great advantage a concealer will offer you can expect for it to be a little more expensive. I don't know the size of the concealer yet but looking at the pictures it seems like a reasonable size too. The price is $30 
✅ do we need it ? 
Do we need a more expensive concealer ? It is hard for me to swallow paying over $25 for a concealer when some foundations are less then that price range. Now when you find a holy grail makeup item we tend to look away at the price and gladly pay for that item. 
My skin is imperfect with crazy bags around the eyes, redness and dark spots. With these concern you can see why is a must finding a great foundation and concealer. 
In my opinion not everyone will need such an expensive concealer, but if this product offers some great benefits to help the skin then this could be a great product to get. 
Now we have to see once is launched if the price can stand alone with the claims. So far Huda Beauty hasn't disappoint and I hope this product is as good or even better then what it claims. 
✅ Launch location and date 
This product is expected to launch on October 8th at shop by Huda Beauty and is also available at Sephora
✅ Shades Available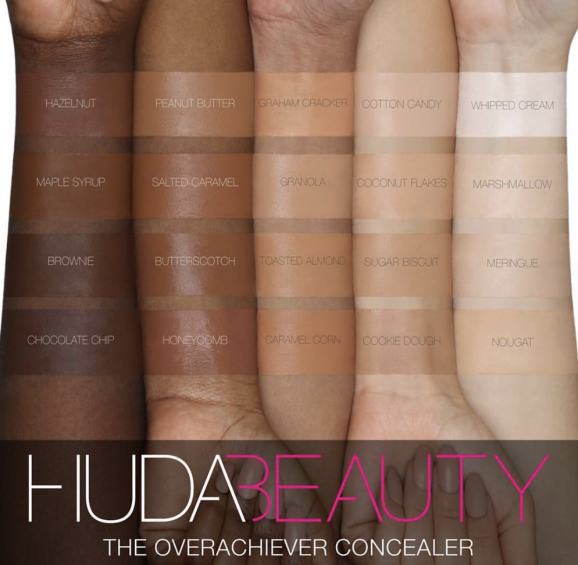 Finish:
✔ Matte
What it is:
A full-coverage creamy concealer, armed with skincare actives and a cooling zamac tip.
What it does:
Packed with 31% pure pigment, and multi-action skincare actives, the Overachiever not only covers and conceals, but also soothes the delicate skin around the eyes with every application. Inspired by the hustlers and those who do the most, Huda set out to create a multitasking formula that go-getters could trust to work as hard as they do. Developed with tired eyes and long nights in mind, the formula works to disguise the appearance of dark circles, redness, hyperpigmentation, age spots, and discoloration with a beautiful luminous-matte finish. 
The creamy formula is infused with green tea, which is known to erase signs of discoloration and stress, while also protecting the skin against external hazards and discoloration. Carefully considering the fragility of the under-eye skin, Huda Beauty added jericho rose extract for its soothing and moisturizing properties, known to support natural cellular regeneration as you wear. Employing cutting edge skin technology, Overachiever is enriched with long-wearing polymers which fuse to the skin, giving you water-resistant, transfer-free coverage all day long. It is uniquely equipped with a luxurious zamac tip to help soothe and de-puff around your eye as your apply, leaving you looking brightened, refreshed, and awake. Available in 20 creamy, high-coverage shades ranging from fair to rich, think of it as the MVP of your makeup bag.
You can also watch my first impression with the Huda Beauty Foundation here.