Ipsy is a beauty box monthly subscription (no obligation since you can cancel any month at any time) this feature is very important to me because I could cancel any upcoming bags if I dont like the sample items I am getting..
Ipsy is a monthly subscription which you receive 5 items, some are sample sizes while 1 or 2 can be regular size in addition you will get a makeup beauty bag.
If you are interested on signing up to get your first beauty bag you can do so right here
Well, lets get started..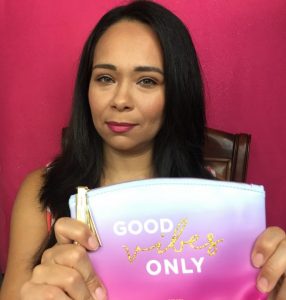 This month theme was a little different since there were 3 different designs.  All 3 bags had an ombre effect but mostly warm tone colors.  The quote the bags had was
1.Peace Love & Lipstick
2.Wild & Free
3.Good Vibes Only.
The bag I received was Good Vibes Only which is a good positive message on being a more positive person.


Well, now to the items I received, before I share the item I got, I want to point out Ipsy sends different items to each subscribers and that goes based on your profile, which I share my skin tone, hair, skin issues, favorite items and other beauty questions. Based on that information is the reason as to what I receive varies from other people which makes this so exciting to see what other people received..


You can click on the video which I share Ipsy July Subscription Box Unbagging.
If you would like to watch it click above or watch it on youtube

If you liked the video, click here to Subscribe as I post newer videos.
My Review:
Since I got this bag a little less than a week ago I could only share what I think so far.
theBalm Voyage Vol. 2 Eyeshadow in Willkommen – The color looks like a nice creamy with a touch of shine, the only thing I dont care for is how small and uncomfortable it is to use.  The packaging and how well is promoted is on point but I feel they need to work on a more duable eyeshadow product.

MAKE UP FOR EVER EXCESSIVE LASH Arresting Volume Mascara– I have been able to use this mascara about a year or 2 ago, to be honest is one of those mascara I take with me when on the go.  Is easy to apply doesnt leave much of a mess and my lashes come out clean, truly love this product and was happy to get it in my bag.

Hikari Cosmetics Shimmer Bronzer in Flush – The palette is very cute, it comes with plenty of shimmer.  Once I apply the bronzer even if is a little bit I could see how shiny and glowy my skin is.  The times I have applied the bronzer when putting on my makeup I end up skipping any highlighter.  The blush is more pigmented and when applying both products they blend nicely.

Paula Dorf Cosmetics Mini Universal Brow Pencil in Taupe – this pencil is very easy and smooth to apply, the only thing is that the product looses the pointed tip all in one used.  Another thing I didnt like to much is that the area I apply more of this product it tend to feel sticky.

Juliette Has a Gun Not a Perfume – This product I received last month on my Birchbox subscription, I truly love this perfume and when I saw I got it again this month I was so happy. I love how refreshing airy, light and citrusy this perfume is.