I love beauty boxes and so far this year I could see how each company is offering a great deal of beauty items.  If you have been on the lookout or simply want to try a new beauty box from a brand you all ready trust then I am excited to share with you that there is a new Beauty box company and that is Lola's Beauty Box..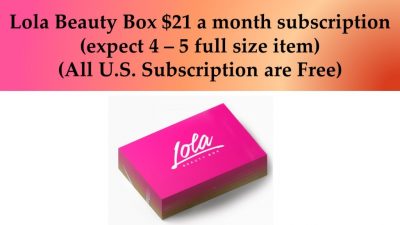 Here is what you can expect for AUGUST beauty box if you are considering this box sign up & confirm email before this box is sold out..
What is the cost?
$21.00 a month (value $78 so far from 4 items listed)
What can I expect in my box?
Confirmed Sneak Peek #1: Laqa and Co Desert Mirage Eyeshadow Palette ! Retail Value: $24.00
Confirmed Sneak Peek #2: Wander Beauty Exquisite Eye Liquid Shadow Retail Value $26.00 *Please Note: If you received the Wander Beauty Exquisite Eye Liquid Shadow in your July Box you will receive the Wander Beauty Wanderout Dual Lipstick in your August Box.
Confirmed Sneak Peek #3: Zoya Nail Polish! Retail Value $10
Confirmed Sneak Peek #4: Glo By Glory Glo Stix Semi-Matte Liquid Lipstick! Retail Value $18!
First Time Discount Code Benefit
Use code LOVE to save 10% off your first box (if still is available)
You can also see a quick video for this month expected items