I want to share with you that I dont have the best healthy, glowing normal skin, instead is very oily, large pores, uneven, acne prone, dark/aged spots, just to name a few.  Like I shared earlier (about a toner that has worked for my skin here) for years I tried many products such as ointments, lotions & medications prescribed by my dermatologist.  Trying them all for a very long period of time my doctor kept changing and prescribing something stronger but nothing seemed to work.  So I decided to change things little by little starting with my toner since the one I used to buy was ok but it contained some strong ingredients that would burn my face. That is why I shared the recipe I used which is just a few ingredients and is all natural (that has helped so much) and right after that then I changed my cleaning routine.  Moving forward to about 4 years since going mostly natural, I read in order to improve uneven skin is best to try a special facial called Microdermabrasion, the cost on each session can go for $65 and up – ouch… That got me very skeptical because paying for so much on my skin and nothing has worked I really dont want to spend on something so expensive and not get any positive results.  As I continue doing my research I read many people tried this treatment at home for about $20 using the Neutrogena Microdermabrasion Kit.
So, I decided to go for it and stopped by my local CVS store, luckily there was a deal for Neutrogena Facial Products and from $25.99 I paid $15.97 which included this item and 2 other cleanser you can find out more here..
Well back to my review, I was super excited knowing I got a great deal and that this product was available.  Once it was time to try it, I washed my face with (baking soda and a few drops of coconut oil) scrub gently and removed any dirt and makeup.
Open the package and follow the instructions provided which are very simple.  Place the batteries included into the machine, took one puff and attached it to the head, press in the middle of the puff until I heard the click and now it was ready to be used.  I added some water to the puff, turned it on and placed it to the machine to my face.
I did about 2 minutes per section of my face so I took about 11 minutes total, I added some water to the puffs at first and then it felt kind of dry so I stopped and added a little bit more water to the puffs and that helped a lot.  It didnt hurt, it wasnt uncomfortable, I just felt the vibration more in some places like my jawline and forehead but besides that it was pleasant.
After I finished, I rinse my face with warm water, patted dry with a towel and placed some coconut oil around my face.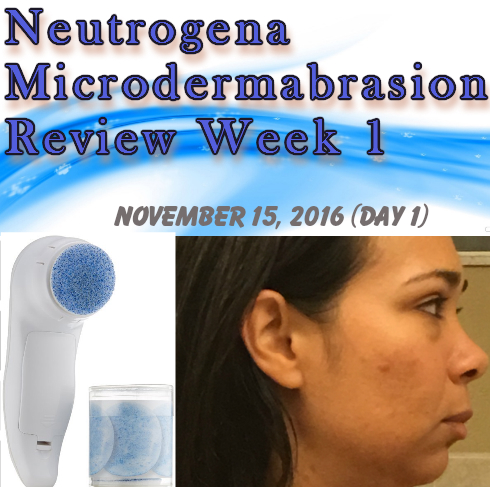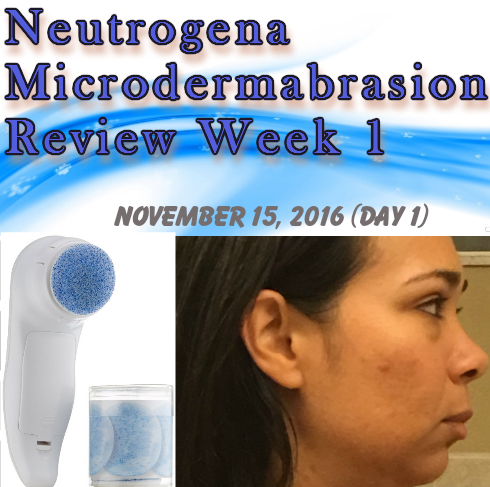 What did I notice after first used?
(Softness) My skin felt soooo soft, I dont know when was the last time my skin felt this soft before. There has been times after exfoliating, or with an oatmeal scrub that my skin felt very soft but comparing those times with this machine there is a huge difference.
(This product deliver just what it says it would right on your first tried)
(More even) My skin is very uneven and that comes with no surprise when you have acne prone skin, because of that many products and cleansers cant help make the skin look more even instead is best to add primers or products that help cover to make the skin look more unified.  Around my cheeks it felt more even, not so lumpy to the touch.
(Fine lines less visible) The next morning I compare my face to the picture shown above and I was impressed as to how the lines were less visible, that is not an area I focus on but reading the package it mentioned "88% had visible improvement in the look of fine lines after 1 week" so I checked it out and saw this was true for me as well.
(not as shiny or healthy skin) I read many women experienced after the first used very shiny and healthy looking skin, that wasnt my case, my face experience some dramatic good results like I mentioned above but I didnt see that healthy glow.  Yes it was a bit shiny but not what I expected.  Reading the box, this product deliver exactly what it said it would on your first try, but the healthy glow that will come after many uses.
What did I applied after first used?
Because my skin is so sensitive and after going through the vibration I decided to apply coconut oil.  Coconut oil is a good moisturizer (which is what I use daily after cleaning and applying toner to my face).  Coconut Oil is also good to restore dry/flaky skin, it strengthen skin tissue & eliminate dead skin cells. Coconut oil has helped improved my face so much that I knew applying it after my first microdermabration from Neutrogena would helped sooth my skin as I was going to bed.
What did I change after first used?
My skin is telling me I need to hydrate a lot more, so adding more water in take, but also got a different and newer moisturizer.  Started to use the Loreal Revitalift anti-wrinkle & firming day lotion, broad spectrum spf 30 sunscreen (all in 1). During the day I am using the new moisturizer and at night using the coconut oil.
I hope this review helped you understand this product a little better based on my experience as well as knowing me a little bit more.  This is my new beauty journey even though I have made some changes throughout the years but now I am attacking those areas a little more.  Thank you for reading and stopping by..