SEPHORA COLLECTION Smoke Machine Smokey Eye Brush Set – $19 (Value $102) 
Sephora has some items on special, this item is a must have specially if you are starting or want to upgrade your makeup items.  Sephora has a collection mostly for smokey eye look, these brushes has a value of $102 but they have it on special for $19.  I was able to be in a class at Sephora for Smokey Eye makeup look and the brushes they used are the ones mentioned on this set, they were pretty good and blend very nice.  $19 for a few makeup brushes is rare and if this is something you have your eyes on this could be the best time even for a christmas present. 
SEPHORA COLLECTION Smoke Machine Smokey Eye Brush Set – $39 but now is on sale for $19 (Value $102)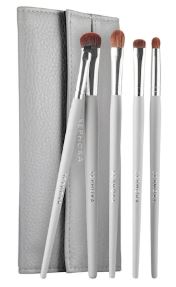 (you can save even more signing up with TopCashBack)
What it is:
A set of five eye brushes designed for stunning smoky eyes.
What it does:
Confidently create a sultry, smoky eye with this beautiful brush collection. This set comes with every brush you'll need to conquer makeup trends, from naturally flawless, to bright and bold. The glittery, gray clutch features custom slots for each item and the sleek design is perfect for travel.
This set contains:
– Shadow brush
– Base shadow brush
– Precision smudge brush
– Smudge brush
– Angled liner brush
What else you need to know:
This product is not tested on animals.