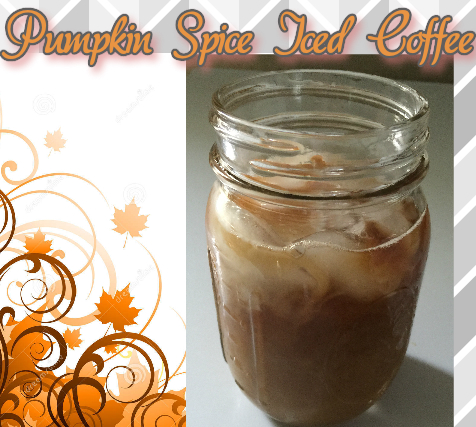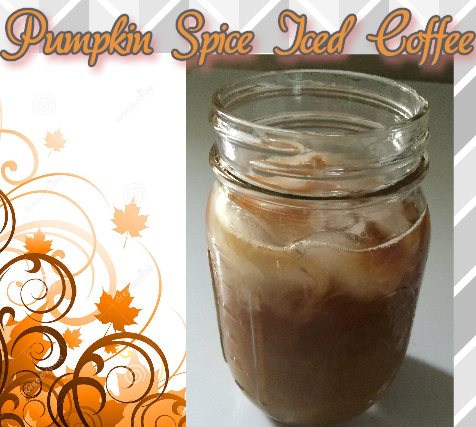 OMGGGG… I just tried Pumpkin Spice Iced Coffee a few days ago and I was in loveeee… I love pumpkin and most spices that goes into original pumpkin pie spices so that is I think I felt in love with this drink.   As I mentioned on other post I started drinking Iced Coffee not so long ago, probably about a year now and during that same time I started being careful on the calories I consumed per day so for that reason I decided to make my own Pumpkin Spice Iced Coffee but in a very light version.  Yesterday as I was in the mood for this drink but being away from home we stopped at a very common coffee place and when I saw the amount of calories this drink has I knew it would be a good idea for me to make this at home.
So here is what I did.
Brewed some coffee (a little bit on the stronger side) about 2 cups
1/2 tsp of Pumpkin Pie Spice (placed with the coffee grounds right before brewing)
A few dashes of more Pumpkin Pie Spice (add to the hot coffee in pot)
Let cool..
Ready for the Iced Coffee
1 cup of brewed coffee (with spices as mentioned above)
1/3 cup of Unsweetened Vanilla Milk (I used Blue Diamond)
1-2 packets of Truvia
Dash of Pumpkin Pie Spice
Dash of Cinnamon
1 tbsp International Delight Hazelnut Fat Free Sugar Free Creamer (optional)
1 – 1/2 cups of Ice
Place Ice in your favorite Iced Coffee Mug/Cup/Jar
Add coffee, milk, sugar and creamer
mix well and top with a dash or 2 of Pumpkin Pie Spice and Cinnamon
Enjoy…
This recipe is about 28 Calories
.33 cup Unsweetened Vanilla Milk = 10 calories
1 tbsp I.D. Hazelnut Creamer = 15 calories
Pumpkin Pie Spice = 3 calories