The hair is one of the areas I have searched so much on and not see an improvement on.  Yes, I have seen some hair mask to hair products helped a little but not where I would like it to be.  For a few years now I tried to not use any heated tools since the heat has damaged my hair making it so flat, frizzy, and dull-looking. 
At the beginning of this year, Irresistible Me reached out if I wanted to try a new hair tool called The Diamond Professional Flat Iron.  At first, I was skeptical and wasn't considering the offer but after thinking how impress I was with this brand when I tried their hair extensions I decided to give it a try. 
Like I mentioned I was skeptical and at the same time I was concerned to add more heat to my hair but after my first try, my first impression – I was completely impressed.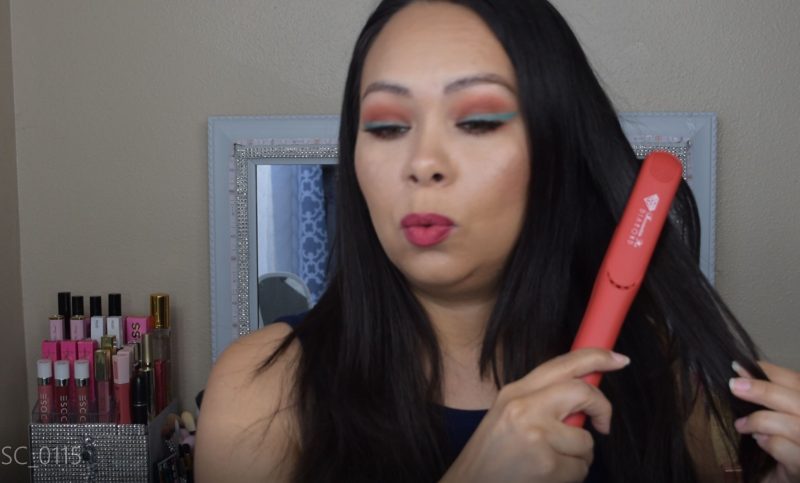 I shared a video of my review which you can find at the end of this post.  I decided to give it a try up to 3 times of using it before sharing my review.  I notice my hair looked shiny, healthy, and very sleek for more than 6 days. 
With the previous straightener, I would need to retouch every day vs the Diamond Hair Straightener my hair looked the same every morning. 

The natural oils in my hair would hold much longer making my hair feel cleaner and less oily. 

On my third hair wash, I notice my hair looked less frizzy.  Since my hair is long and thick I would normally take 2 – 3 hours to achieve very sleek hair, with the Diamond Flat iron it was so much quicker to do. 
Once I experience so many benefits and seen improvement in my hair by just using this hair tool I needed to see what was different about this flat iron.  What I found completely check the boxes from my experience alone.   
Below I share what this product offers and some information about the technology found on the Diamond Flat iron.  If you would like to learn more or would like to check or purchase this item you can use my referral link found here. 
How is Tourmaline used in Flat Iron?
Tourmaline is a crystalline mineral crushed into a fine powder and infused to coat the ceramic plates that now we see in the latest flat iron.  The crushed Tourmaline activates once the hair straightener is heated and it helps treat problem areas in your hair. 
Using a flat iron that has Tourmaline can help to add moisture and lock in moisture, it helps with frizzy hair, it also gives a nice shine to your hair, and it can tackle static as well. 
Using a ceramic Tourmaline Flat Iron once is heated it will help change the positive ions in our hair (which causes our hair to be dry, dull, and frizzy)  to negative ions.  These ions also help to seal our natural hair oils. 
As I recall many years ago we were told adding heat to your hair would cause damages like losing hair oils, moisture while causing frizzy dull unhealthy hair.  But as you can see using the right tool in this case Tourmaline ceramic plate can help to minimize heat damage while adding benefits like mentioned above.
In other words, Tourmaline sounds like a potential antioxidant needed from the free radicals (stresses, pollutions) found in our hair.  
What is the Diamond Flat Iron?
The Diamond Professional Flat Iron is our next-generation, digital, SMART styling iron featuring unique DIAMOND Hi-Tech, which coats the floating ceramic plates with crushed diamond particles mixed with tourmaline.  
The diamond and tourmaline technology will protect your hair and keep all the natural hair oils, color, and moisture in, leaving your hair healthy, shiny, and frizz-free. The styling will last longer against air humidity and everyday stress.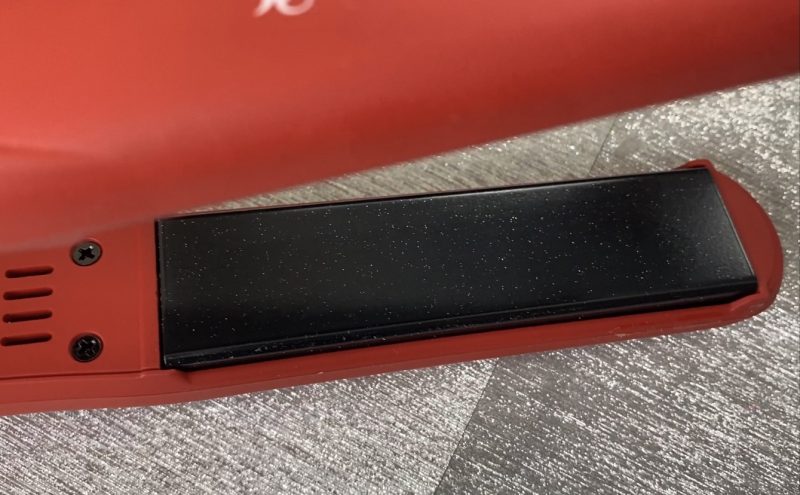 a 360° mobile cord that swivels around following your every move.

a thumbprint and cool tips for a steady grip and to avoid burning your fingers

all buttons are on the inside so you don't accidentally change the settings

shuts down automatically in 30 minutes

gets hot (450F/230C) really fast, in up to 15 seconds

intelligent heat display that lets you see the temperature all the time
it is super light and comes in a beautifully designed box with magnetic closing that you can use to store ita

it automatically changes the temperature display to Celsius or Fahrenheit, depending on the supplied voltage, making it perfect for traveling

the 1" floating plate self-adjusts, eliminating any pressure points, so that the iron can work through your hair smoothly without pulling

1 year limited warranty
You are welcome to check out my video sharing my review (link here or video below) see you there..