Face Mask, what a great product to add on any skincare routine.  You can either try it a few times a week or apply it for a more pamper treat.  But it can get overwhelming getting the right mask for your skin. 
Some of the mask I notice I use more often are Sheet Mask, Bubble Mask and Detox Mask. Having Sensitive Skin can get challenging finding the right mask that will also target my problem areas like acne, large pores, redness and dark spots. 
Today I want to share my experience with this new mask I am loving the new Teami Blends Detox Mask. At first my impression was a little thrown off by the color dont know why but I guess thinking of the ingredients and that is also natural I thought it might not feel great.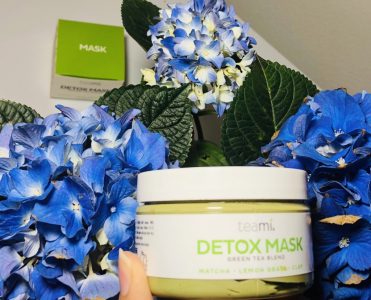 Once I opened it I was in love with the scent, is soft but spa like.  The consistency is pretty creamy but dense which makes it perfect for applying on your skin.  I notice if my skin is a little damp before applying the mask as my skin is drying you can feel the skin a bit tight.  But if I apply the mask on dry skin, it doesnt feel tight at all. 
I apply the mask once every other day, before getting in the shower, this allows for it to dry and start working on my skin.  You can leave the mask on for 10 – 15 min and that is the time I tend to leave it on my skin.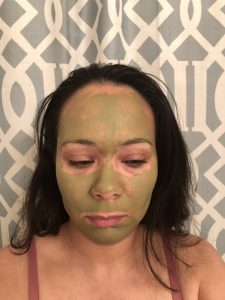 The first time I used it, I only applied a very thin layer to see how my skin would react.  Other mask I tried on my sensitive skin did give me a bad reaction and it was scary to see my skin much worst after the mask. 
I want to share my before and after pictures were you can see my skin does look so much better after a few times using it.  The redness is less visible, my pores seems so much better and surprisingly I barely got any acne. 
Seeing great results had me look more into the ingredients, I have seen some great improvement on my skin with other mask like Mamonde Bubble Mask but none had tackle my acne and pores like this new Mask has. 
Matcha, Lemongrass and Bentonite Clay are the main ingredients and they do offer benefits like Antioxidant, glowing skin, Clears Acne, Antibacterial, Controls Oil and more. 
Price:
Claims:
Claims provided in Ulta site –
Using 3 fresh main ingredients: matcha tea, bentonite clay and lemon grass, Teami Blends was able to create the perfect detox blend for all skin types, Green Tea Blend Detox Mask.

Ingredients & Benefits:

Goodbye Blemishes: Teami Blends' 100% organic matcha green tea pulls out toxins from inflamed skin which removes blackheads and reduces acne, blemishes and redness
Antioxidant Boost: Teami Blends' active antioxidants work to fight the negative effects of free radicals and UV radiation, and can help repair sun-damaged skin. In addition, this powerful antioxidant will stimulate dead skin cells and improve tired and dull skin
Nourishing Skin: Teami Blends' soothing bentonite clay will give your skin a naturally healthy glow
Face Glow: Using Teami Blends' all-natural lemon grass helps refresh and lighten your face, works on all skin types. Improves overall skin glow
Moisturize & Heal: Fights off free radicals, softens, repairs and reverses damage with natural healing
Anti-Aging: The Detox Mask gives you a healthy appearance and reduces the look of fine lines and wrinkles, naturally

Best product for all skin types – oily skin, dry skin, sensitive skin, combination skin:

Green Tea Blend Detox Mask is 75% organic – no harmful chemicals or preservatives
100% Cruelty free – no animal testing!
Non-greasy. Wont leave a film, build up or clog pores. Will not strip or dry your skin, or make it greasy or oily
Made in the USA! Right in Teami Blends Headquarters: Seminole, Florida!
Overall I love this mask, works great on my sensitive skin and it has improved the look and feel of it. I also did a video sharing my review you can see it here.