Trendmood Box is releasing a new type of box for the first time you can also get a take over box.  For this month you can select Vol 4 and or Take Over Box, both might be released for this month of March.  Once the reveals are completed the release date, as well as the price, will be mentioned too. 
Trendmood Take Over Box is a box that is exclusive to just one brand.  You can expect 5 items from Ole Henriksen just in this box.  You will receive an item that will launch first with Trendmood Box.   
Below I will share more things to know about the box but in the meantime, I want to share the items you can expect for this first take over box. 
Sneak Peeks Reveal: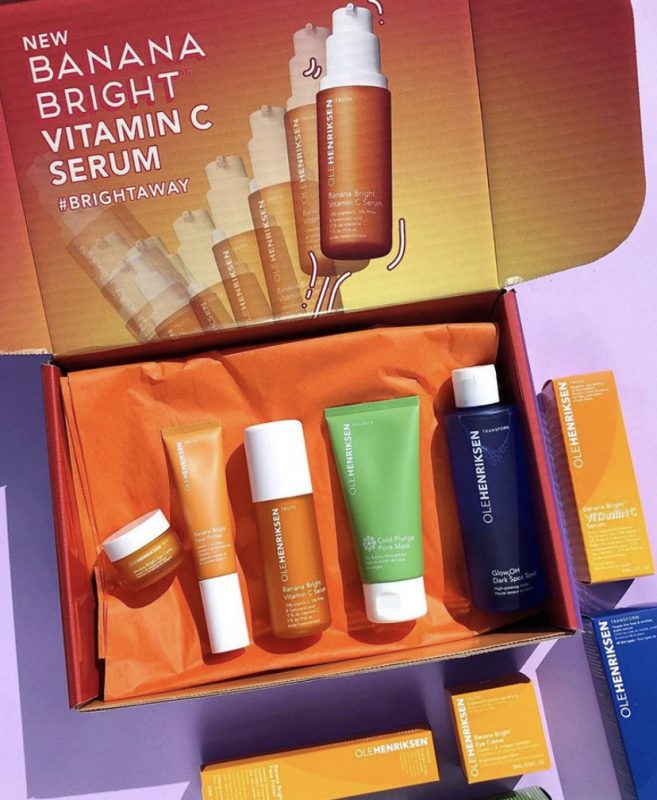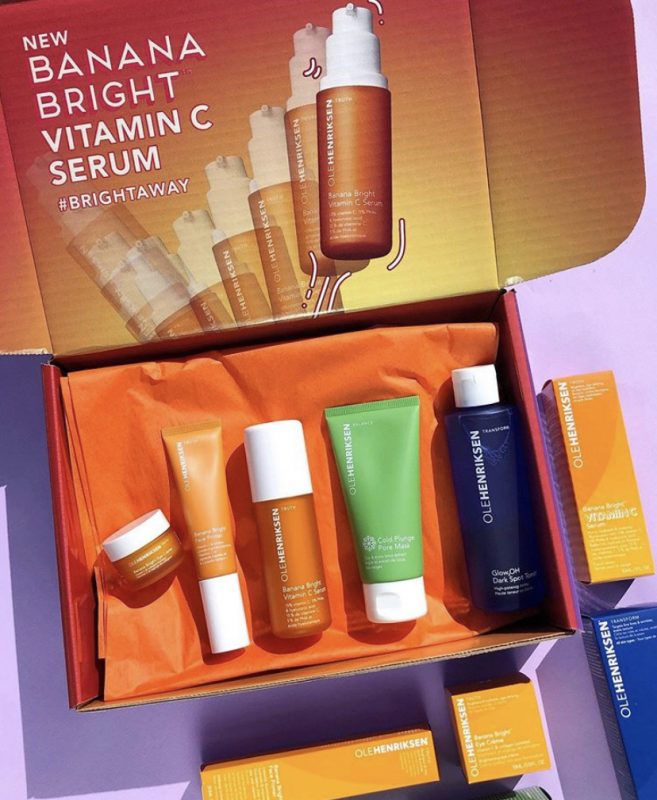 1. The Banana Bright Vitamin C Serum ***launch in our box first
a serum targeting all major signs of aging, including dullness, fine lines, wrinkles, dark spots, and uneven texture. Will be available March 27th online
2. The Banana Bright Face Primer –
illuminating face primer with banana powder-inspired pigments that deliver instant radiance while improving and extending makeup wear
3. The Banana Bright Eye Crème –
targets signs of aging, reducing the look of dark circles while improving concealer application and wear
4. Glow2OH Dark Spot Toner –
supercharged with high-potency AHAs to reduce the look of dark spots.
5. Cold Plunge Pore Mask –
A detoxifying, cooling clay mask that instantly reduces the look of pores, smooths skin texture and controls oil all-day
What is the Cost of the Box?
Trendmood Box was introduced as a box that might reveal one or more boxes in just one month, each box is treated as a new launch, therefore, prices will vary on each box.
How do I subscribe to Trendmood Box?
Trendmood Box was introduced as a new launch box.  Each Launch is treated differently and each time a promo code is sent to your email, but first sign up by registering your email, once the code is sent you can select the link sent type in the code and make your purchase. 

Since they are still working on improving the system directions on how to purchase might change. 
How can I Sign up?
Is very easy to sign up, just click here and type in your email,

Make sure the company is added to your email list since it might show up under spam and you might miss the promo code once the box becomes available.

When the box date release is given expect an email sent that will provide a promo code

Once the code is sent you can select the link sent type in the code and make your purchase. 
What is the shipping price?
The Shipping cost for the Trendmood Box is FREE
Below – March 2020 Box Sneak Peek Reveal