Trendmood Box vol 5 full box reveal is completed.  I am excited to share the items we can expect for Vol 5.  Most are skincare items we love while others are new releases.   So far we have the full box reveal, date, and time of launch.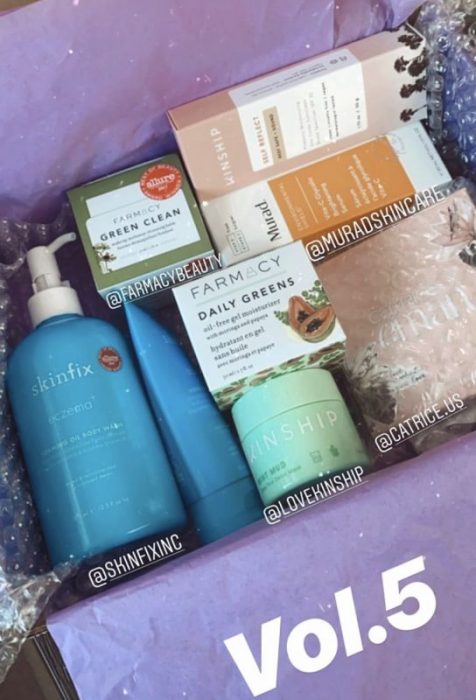 Below I will share more things to know about the box but in the meantime, I want to share the items you can expect for Vol 5. 
Sneak Peeks Reveal: 
1. The Daily Greens Farmacy beauty Oil-free Gel Moisturizer
Refreshing provides essential hydration while helping to purify skin with a blend of phytonutrients and oil absorbing agents for a fresh, healthy glow  $38.
2. The Green Clean Makeup Removing Cleansing Balm – cleansing balm instantly melts makeup, removes impurities, and gently exfoliates. It transforms from a sorbet-like balm to silky oil to milky lather to remove makeup effortlessly with zero residues, leaving skin hydrated and silky smooth.
3. The Self Reflect probiotic moisturizing Sunscreen Zinc Oxide SPF 32 by lovekinship
sheer, reef-safe, mineral sunscreen for blemish-prone skin.
4. Mint Mud  by @lovekinship
A rinse-off mask made with bentonite and kaolin clays, lactic acid, and jojoba beads for deep exfoliation to unclog pores and even out skin texture. You'll get the benefits of both resurfacing lactic acid and physical jojoba beads for that deep clean + brighter-looking skin.
5. The Eczema+ Hand Repair Cream by skinfixinc
Trendmood Box wanted to add products that are all about self-care especially during quarantine and since we wash our hands so many times a day they thought this will be perfect
6. Eczema+ Foaming Oil Body Wash by @skinfixinc
An ultra-mild, sulfate-free body cleanser for dry, sensitive, and eczema-prone skin.
The skin-softening formula uses sulfate free coconut cleansers to gently cleanse without stripping.
7. Cheeky Blush Palette @catrice.cosmetics X @eman
A palette with 4 universal blushes shades to work on all skin tones. The buildable powder formula feels soft and buttery. 3 matte and 1 pearl finish.
8. The Vitamin C Glycolic Brightening Serum by @muradskincare.  A serum that helps improve the look of hyperpigmentation and uneven tone for dramatically brighter, healthier-looking skin.
Vita-C Complex – Delivers higher antioxidant defense to help ensure the stability and potency of vitamin C.
Glycolic Acid – Works to remove dulling surface cells to support vitamin C delivery.
Phyto-Luminescent Extract – Helps transform UV energy into a source of light that illuminates the skin's appearance.  Glycolic acid in the serum may produce a slight tingling sensation that is temporary and normal. .
What is the Cost of the Box?
Trendmood Box was introduced as a box that might reveal one or more boxes in just one month, each box is treated as a new launch, therefore, prices will vary on each box.
How do I subscribe to Trendmood Box?
Trendmood Box was introduced as a new launch box.  Each Launch is treated differently and each time a promo code is sent to your email, but first sign up by registering your email, once the code is sent you can select the link sent type in the code and make your purchase. 

Since they are still working on improving the system directions on how to purchase might change. 
How can I Sign up?
Is very easy to sign up, just click here and type in your email,

Make sure the company is added to your email list since it might show up under spam and you might miss the promo code once the box becomes available.

When the box date release is given expect an email sent that will provide a promo code

Once the code is sent you can select the link sent type in the code and make your purchase. 
What is the shipping price?
The Shipping cost for the Trendmood Box is FREE
Below – May 2020 – Vol 5 Sneak Peek Reveal