Tribe Beauty Box October 2018 (refer a friend gift)
Beauty box subscriptions feels like opening a Christmas present every month (or on this case every other month).  The fact that you can get some high end items for a very small amount makes it even sweeter.  This box is one I tried getting a few months back but sadly after my payment went through they notified me that I wouldnt get that month box so they refunded the money.  It shows this was a very popular beauty box and if you want to receive that month box you need to make sure you are subscribed way ahead of time.
Well today they are offering a Benefit when you refer a friend, if you are subscribed dont forget to open your email so you can refer to a friend.  But if you are new and probably are considering this beauty subscription you can use my link and we both can get this item.  If you want to know more about this subscription below I share prices and what you can expect.  In addition you can see my unboxing for August box with the items I received.
If you have been on the lookout or simply want to try a new beauty box from a brand you all ready trust then I am excited to share with you that there is a new Beauty box company and that is Tribe Beauty Box
What is the cost?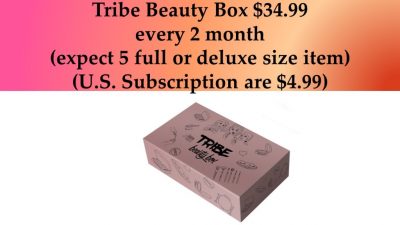 Over $100 value for  $34.99 (For Regular Subscription) 
Over $100 value for  $45.00 (For Limited Edition) 
What is the shipping cost?
Standard USA shipping is $4.99 and takes 3-6 business days.
Standard Canada shipping is $6.99 and takes 2-8 business days.
What can I expect in my box?
Receive 5 full or deluxe sized products:
Subscription Detail
Sign up for a bi-monthly subscription (every two months) to discover new brands and stock up on already loved ones.
You can skip or cancel at anytime!
You can view the unboxing video too