Ulta 21 Days of Beauty Event 2019 (Week 1) 3/17 – 3/23
Want to Save more?? We all do jejej.. Here are a few tips that are very helpful. 
Check out Here post Ulta Hacks – Over 30 Tips & Tricks
Need Manufacturer Coupon ? Click Here to see what is currently Available 
If new to Ulta, sign up and we both get $10 off coupon (link here)
When Shopping at Ulta, Sign up to Shopkick to earn points for amount spent.  If you are interested on checking out Shopkick app, click here, use my code (YAY878036) to earn 250 points and start scanning..
Event Dates?
So excited, the new 2019 Beauty Event is about to start.  21 days of Beauty Event will start on Sunday 17th of March and end on the 6th of April. 
How does the Event works?
Ulta has an event for almost a month that offers items for almost 50% off.  In order to purchase the items you are considering, you must do so on the specific day that is on special.  For example, the first day the deal begins you can find items for almost 50% off, in order for you to purchase that item it must be on the day deal is assign.  Also, keep in mind some items might be on sale online only. 
What is on special this week?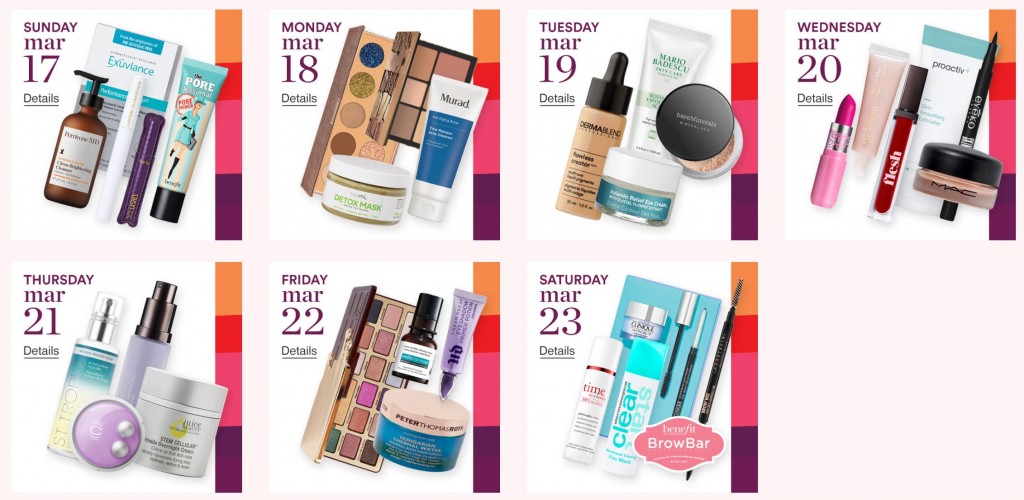 What I recommend?
Glancing through the ad you probably have a few favorites or items you would love to get, I also have a few items in mind and the prices are pretty good.. Here is a preview of the items I do recommend for this week deals.
Sunday Mar 17th –
Exuviance Performance Peel Pads are a great item for the skin, they are a bit strong so make sure it will work great for your skin if this is something you are considering.  I have been using AHAs & BHAs those are a great way to improving your skin, I have tried a similar item from a different brand and they are very expensive but so worth it.
Tarte Mascara – Great price for Mascara
Perricone MD is an okay product, I have tried it and saw a bit of results, to be honest I have seen major improvements on my skin using Korean Beauty Brands but each skin is different. Besides that, if you are using this product and need to refill this would be a great time to do so.
Monday Mar 18th –
Dose of Color (big hype) on this palette if you would like to get those shades this would be a great price for it.
Detox Mask – LOVE IT.. I plan on getting this item.. I did a review (here) recently and I love how my skin looks..
Smashbox Palette – such great reviews on this palette, this is perfect if you need to have everything in one spot.  Great price for it too..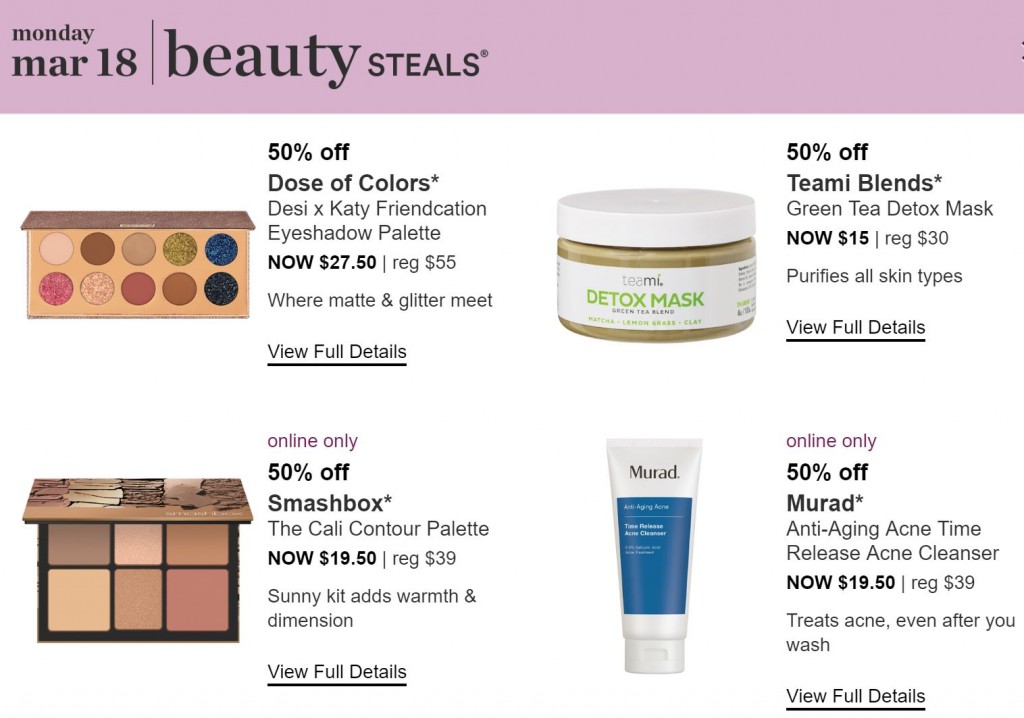 Tuesday Mar 19th –
Mario Badescu – very affordable scrub
Bareminerals – very affordable too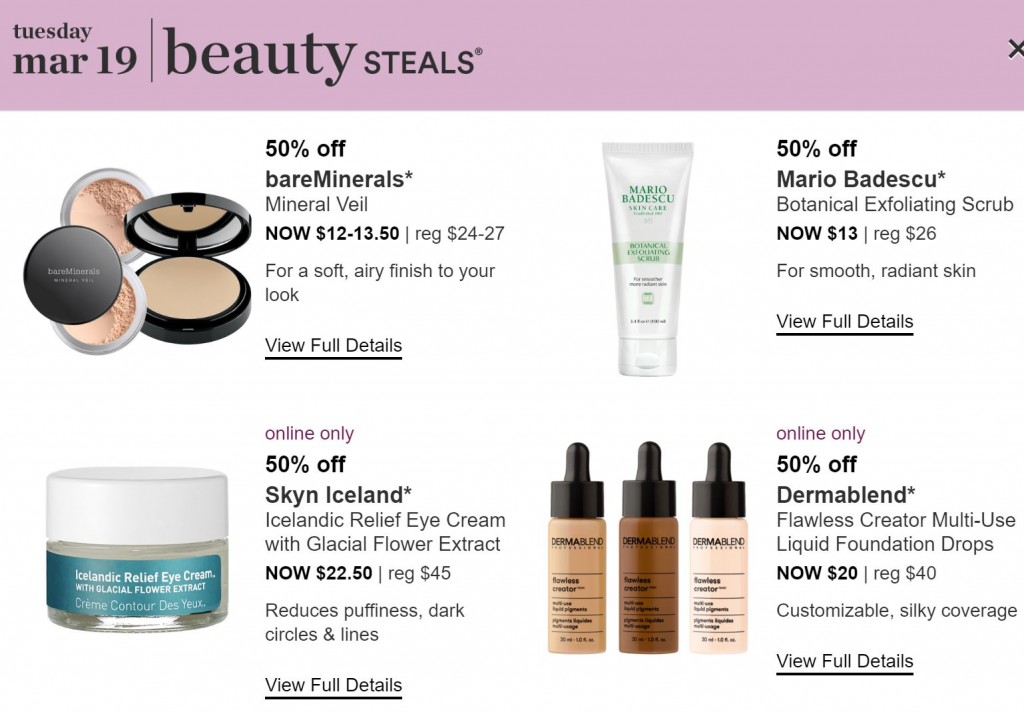 Wednesday Mar 20th –
Mac Paint Pot – For this price is a wonderful primer for the eyelids.
Flesh Lipsticks for the price of drugstore is pretty good.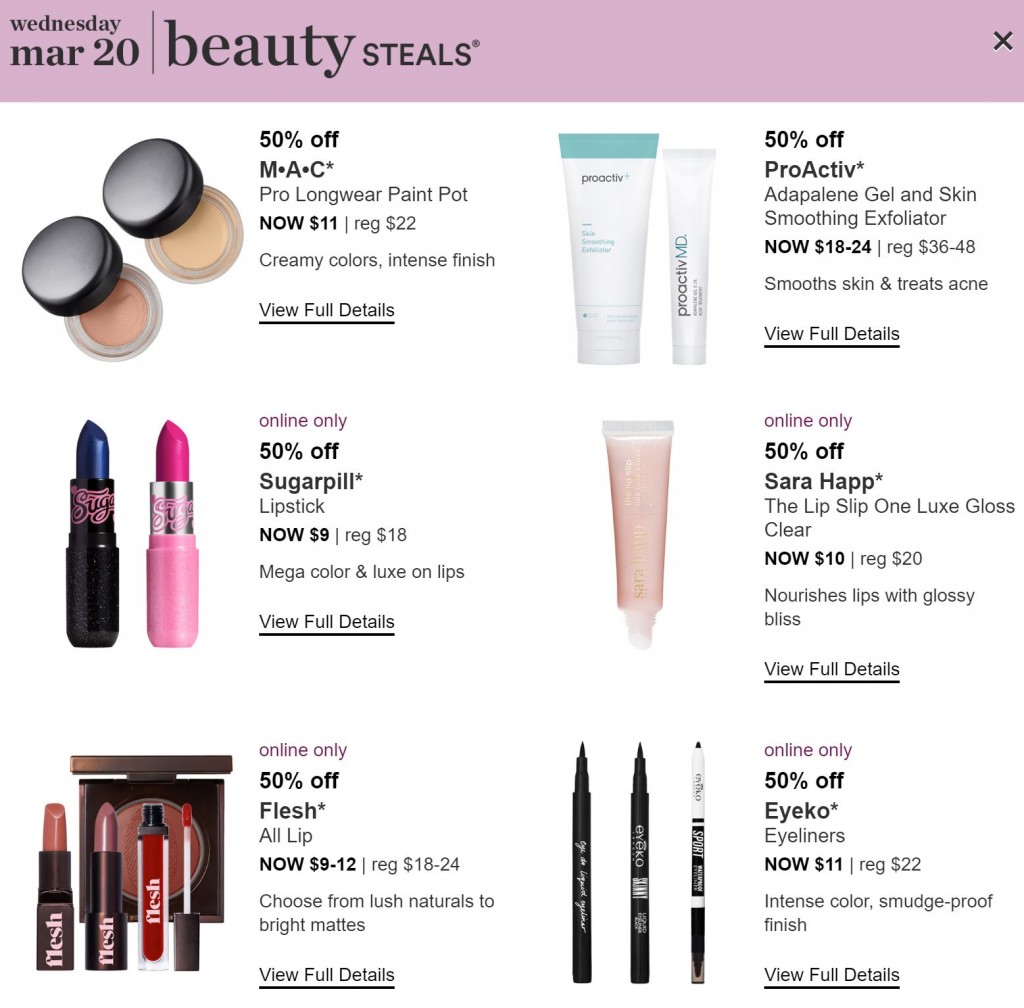 Thursday Mar 21st –
Becca Primers for the price of travel size is a pretty good deal.
Clarisonic – Great time to stock up if needed
Juice Beauty Overnight Cream – this brand has some great ingredients and some feel pretty nice, you can research more about it before the deal to take advantage of this offer.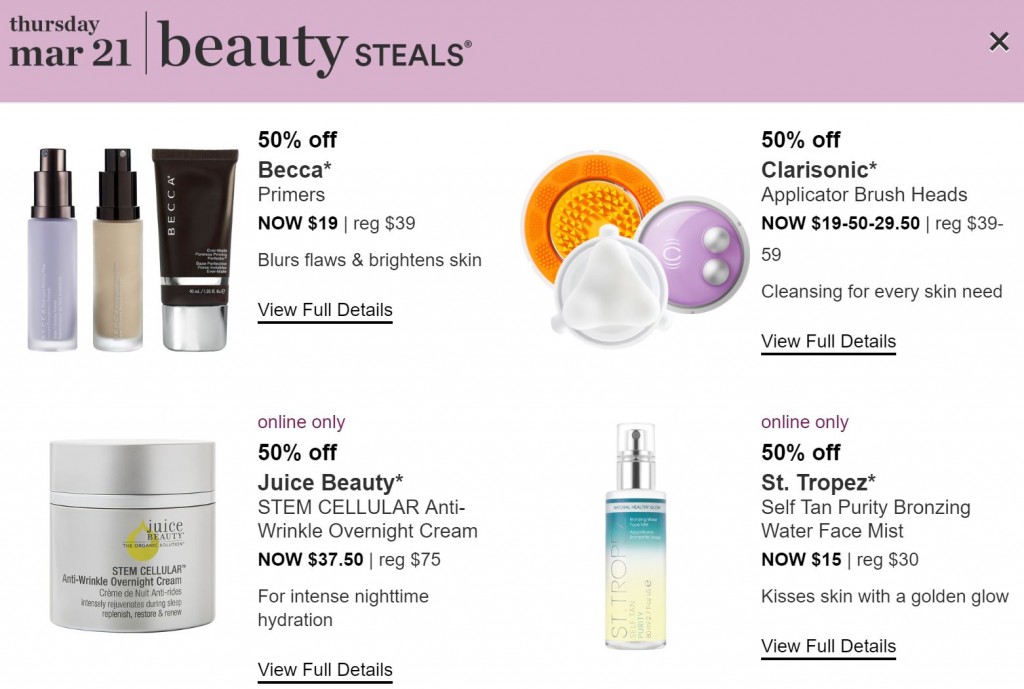 Friday Mar 22nd –
Too Faced Chocolate Gold Palette – Pretty affordable price, it has nice shades of matte and shimmers.
Peter Thomas Roth – has some great products they can be very expensive, if you are looking for a new mosturizer you can read a little more before the sale and see if this one is great for you.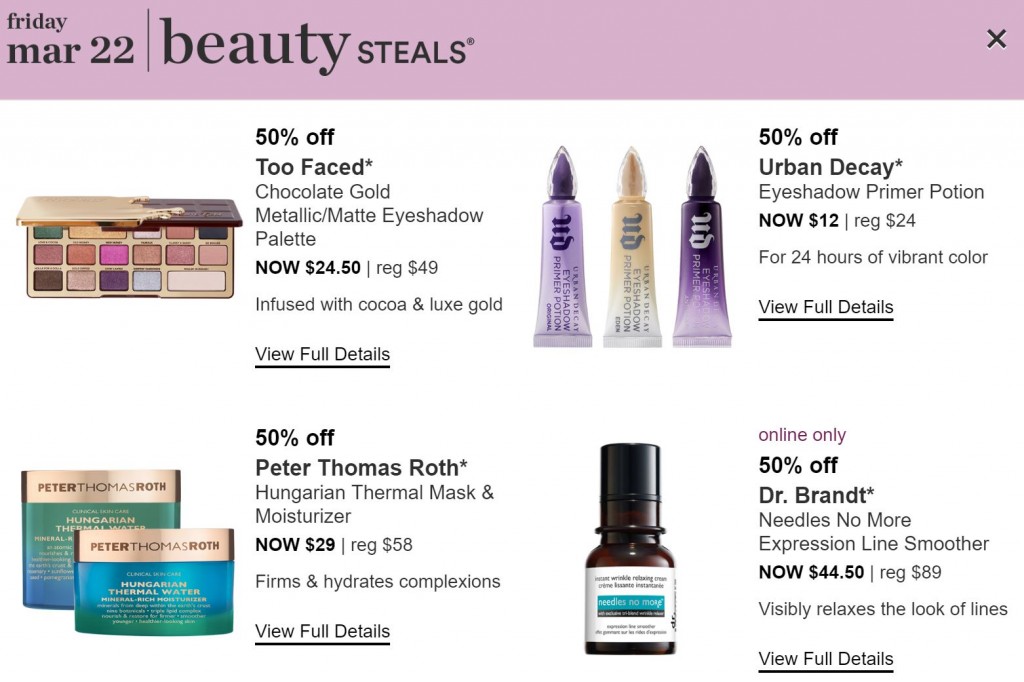 Saturday Mar 23rd –
This day has all great items, from skincare to makeup.  Great time to stock up or to try new products at an affordable price.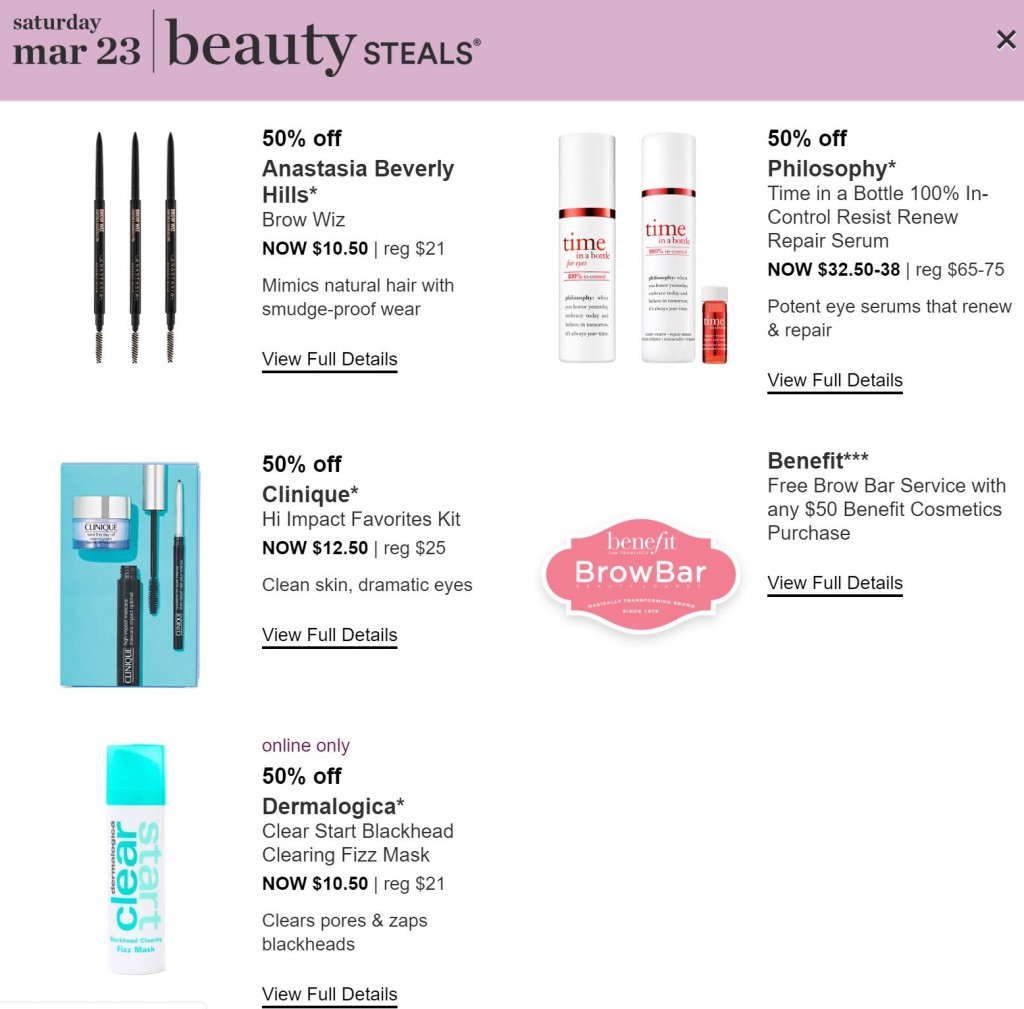 This week has many great items but keep in mind some can be purchase in store and online while a few are online only..  When shopping in store make sure you get there early specially on the items that might go quickly.