Welcome, I am excited to see you love makeup, skincare, haircare and all of those great items you can find at Ulta but I am even more excited to know that you are also looking for ways to save.  That is where I come in, I love finding great deals, and stacking up points/savings. 
I love couponing and throughout the year I have saved over $5k – $10k in groceries but finding ways to save on makeup and skincare can get challenging.  It is hard to keep up with so many great and new beauty items so I found a few tips and tricks that has helped me get the items I wanted without affecting my budget..
Let me share the list I have been able to put together, keep in mind the pictures are just for reference since most of those deal ended.  Also, the days can vary per year but is usually during that season. 
1.Join Ultamate Rewards – Signing up is FREE, and it comes with many rewards.
Check email for possible coupon.  
(Visit Ulta, Select Email Signup, Fill the form, Wait for Email)
2.Earn Ultamate Rewards – For each purchase use your Ultamate Reward Number to earn points  
You will earn 1 point per dollar (Member) 1.25 Pts (Platinum) 1.50 Pts (Diamond)
3.Get Drugstore Coupon  – For each item you purchase check printable or Sunday Paper Coupons (at least a few times in a month we see Drugstore Makeup Coupons, click here to check what is available)
(To print, select coupon, it will ask to install a program is a one time thing and is necessary to print. 

You can select and click 2 per computer, each page holds up to 3 different coupons)
4.Drugstore Makeup Bigger Savings  – Use those printed/insert coupons when you see Buy 1 Get 1 50% off deal, your savings will be a lot more if you combine Ulta deals with Manufacturer Coupon. 
5.Dont Miss out on this coupon – During the month you might see many coupon offers sent to your account by email or app.  One coupon available during the year is $3.50 off $15 this coupon is okay to use on one section of the store meaning anything that is not prestige. 
So if you are buying Drugstore Brand, Morphe, Colourpop and other brands you can use this coupon. 
6.Check Clearance – Look around the store for clearance section (is not only by the register) 
7.Skip Mini Sizes – Check ounces and compare the price vs regular size. 
For example I bought

Mac Prep & Prime Spray, 3.4 oz Reg $26 Paid

$16

on 21 Days of Beauty
Mac Prep & Prime Spray, 1.0 oz Reg

$12

(for the mini)

(For $4 more I got the bigger spray 3.4 vs 1 oz)
8.Black Friday Deals – Many items will go on sale, as well as special kit or holiday deals.  These are shared online, in the app and there ad sent by mail. 
9.Cyber Monday Deals – During this time there are a few offers shared.
For the Cyber Fundays, you can expect from 2x up to 4x the points depending on membership status

For Cyber Monday you can find many items from 30 up to 50% off (mostly online only)
10.Cyber Monday Coupon – You can expect many offers and savings during this time in addition you can find a coupon on your app or email that can help bring your total down. (here is an example of the coupon for 2018)


11. Getting Free Items with your purchase – During the year you can see a similar offer when an item is offered FREE when you purchase a certain amount, for example this year
During Cyber Monday if you spend $75 you were able to choose 3 bags. 

For 2 Days in November if you spend $65 you were able to choose from 3 bags (picture shown)

During December if you spend $50 in perfume you can get a FREE Robe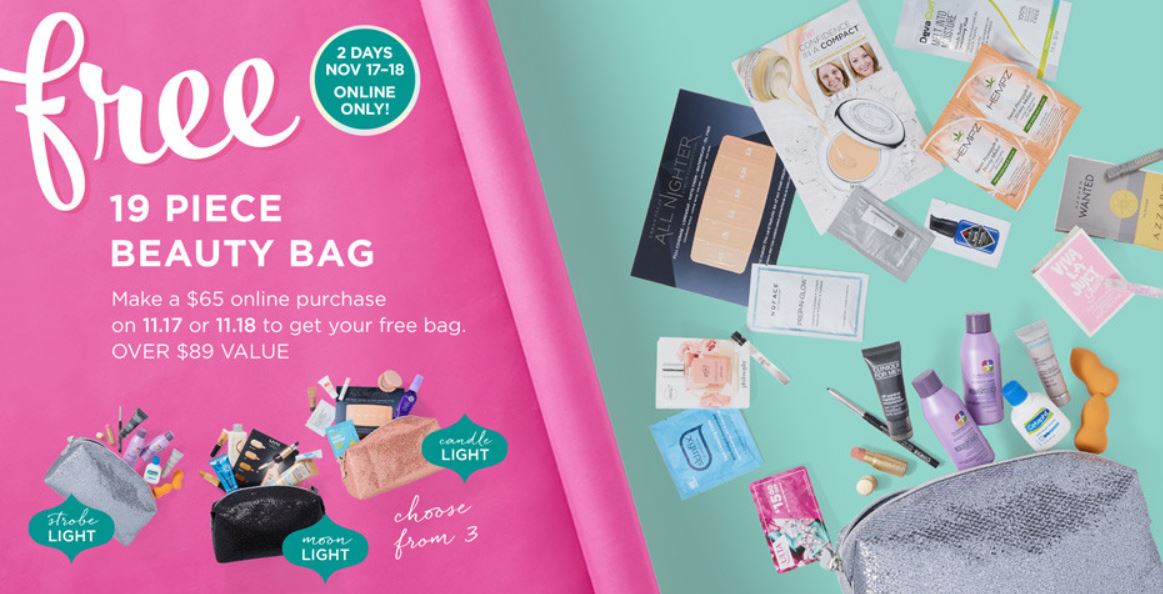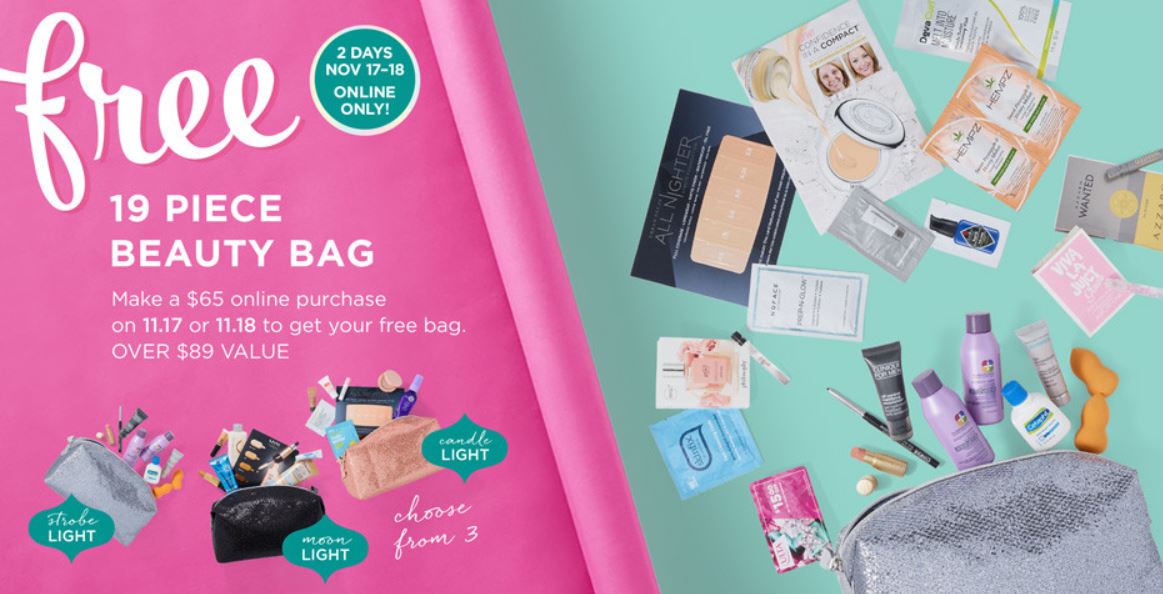 12. Activate Offers in your Account – Every so often there are a few offers added to your account but you might be missing out on points by not activating them.  
13.Member Appreciation Days – Before the week of Black Friday you might see Daily offers added to your account, activate them for Bonus Points. (ends November 21, 2018)
14.Get the Magazine – Select the Magazine to be sent to your home address, in it we get special coupons (they vary each time).  Also great way to plan your deals ahead. You can also view the magazine in the app. 
15.Free $10 when you buy $50 GC – During special deal, mostly the holidays you can see this offer.  You can buy a $50 Gift Card from Ulta and earned FREE $10 egift card for you ( the eGC may come with specific days okay to use)


16.Free $20 when you buy $100 GC – During black friday or cyber monday you can see this offer.  You can buy a $100 Gift Card from Ulta and earned FREE $20 egift card for you ( the eGC may come with specific days okay to use)


17. 21 Days of Beauty Sale – Twice in the year we can expect this deal, is very interesting that each day a few items will be on sale but only for that day, if you request the magazine you will be able to see it in advance.  The items are limited so you have to be quick on getting the items you want.  (The days each year will vary)
March and April (is the first 21 days of Beauty year Sale) 

September (is the last 21 days of Beauty year Sale)


18. 20% Coupon Email (includes Prestige) – Every so often we get 20% coupons that can be used even on prestige and perfume items.  You can get those coupons on email and sometimes on magazine.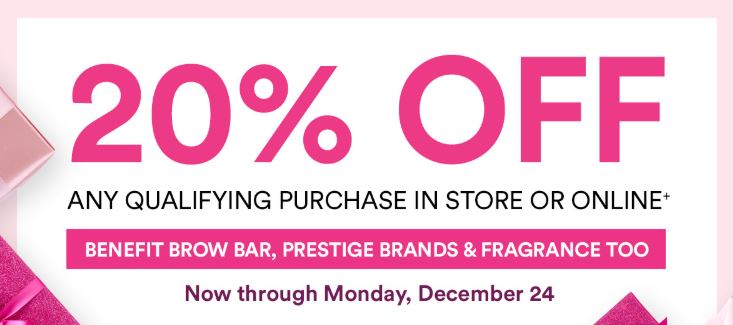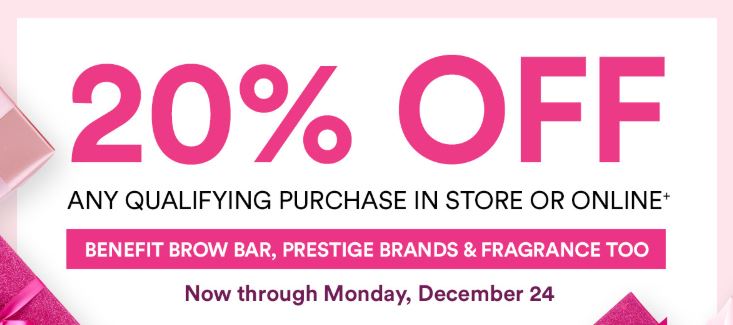 19. Item not in store? you can get it shipped – If you see an item that is not available in your store, you can go to the register, pay for the item and it will be ship to your address, yay free shipping. 
20. Savings on Skincare – During the end of the summer you can expect End of Summer Skincare Event, is a great time to stock up on those skincare items. 
21. Happy Birthday to you Gift – If you are a member and completed your profile information you will receive an email or sent to the app with that month gift selection.  The free gift birthday item varies throughout the year, to know what item will be for your month you can see the options at the beginning of the year.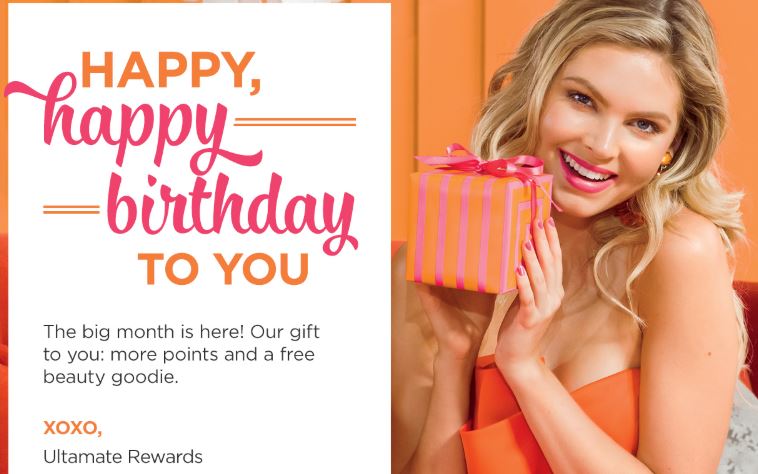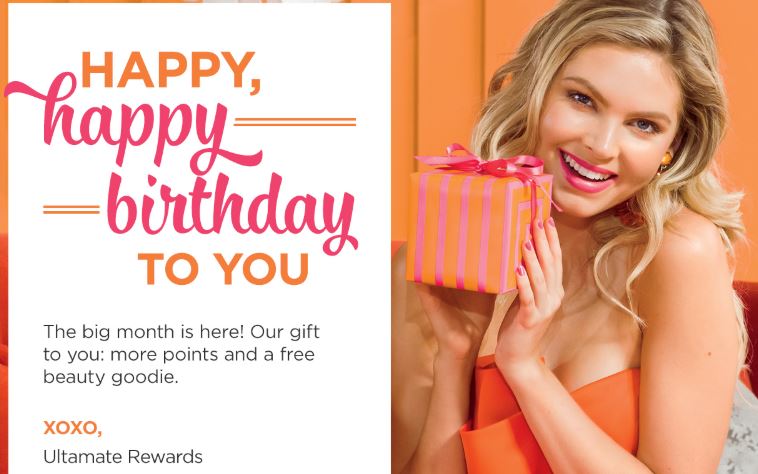 22. FREE Ulta Gift Card with these app – While I'm in store I always use this app, walking in, scanning items and making a purchase I earn points. Those points I have redeemed for FREE Ulta gift cards. 
Walk in Today 25 points

Scan Items 75 points

Sign up 250 points (first time sign up)

Link CC, Pay with that Card Earn 3x the points
With 1250 Shopkicks (points) = FREE $5 GC
With 2500 Shopkicks (points) = FREE $10 GC
With 6250 Shopkicks (points) = FREE $25 GC
If you are interested on checking out Shopkick app, click here, use my code (YAY878036) to earn 250 points and start scanning..
23. Gorgeous Hair Event – During the fall season you might get an email to let you know about the hair event, savings can go up to 50% off.
24. Earn up to 10x the points (once a year) – Once a year you can earn from 5x up to 10x the points, if you are Platinum this will help reach more points a lot faster taking advantage of the 10x the points. 
25. Reach Platinum – If you spend $450 in a year you can earn this status, it offers great savings, $10 birthday coupon, points dont expire and a lot more. 
26. Purchasing Online? Earn some cashback – Other ways to save if purchasing online.  First of all, I do want to share these methods have helped me save and is why I like to mentioned them in case you werent aware or probably forgot.
You can use Ebates or TopCashBack to earn money back for example today TopCashBack is offering 4% cash back of total purchases

If new to TopCashBack, sign up and we both get $10 added to our account (link here)
27. Let the points add up – It is tempting to use your points on each transaction but if you let them accumulate (unless they are about to expire) you will get more for those points.  
28. Purchasing Drugstore Items? Check for Cashback – The Ibotta app is a great one to get cash back on many drugstore items, recently they have added offers for Ulta when purchasing in store and online.  The Cashback can be redeem for Paypal payment or Many Great Gift Cards.  New to Ibotta?  use my referral code and get $5 welcome bonus. 
29. You can return within 60 days – You dont have to worry if an items you purchase didnt work great on your skin or if it didnt match.  If you dont have the receipt, here is when making a purchase using your rewards account comes in handy.  All you have to do is show them your app or give them your information and they can find that purchase for the proper credit is given. If you are not sure if an item will be accepted you can read the return policy here. 
30. Holiday Beauty Blitz deals – This Deals is active during December, is similar to 21 days of beauty but it has more days.  For 25 days you will see certain items on special for that day. For example here is a deal idea for that day. 


31. Stack up the Savings – Here is an idea on how you can stack up the savings, Buying Perfume as a example
Join Ultamate Rewards to earn points

Buy $50 in Gift Card and earn $10 FREE eGC

Shopping Online – Earn 4% Cashback from TopCashBack or 3% Ibotta app 

Shopping In Store – Earn points using Shopkick app

Buying Fragrance earn FREE Robe

Use Email coupon saving you 20% 

Should qualify for FREE shipping if spending more then $50