Wednesday Fave or Fail? This Week Beauty Item – Too Faced Chocolate Gold Eyeshadow Palette
When on the go, or starting your daily routine some items you tend to reach after more often.  Sometimes it could be for convenience while other times could be because of how well it works.  As the week progress you realized there are some products that probably become your favorite item for that week or it can be just the opposite a total fail.
Well on this weekly series or post I would like to share my beauty journey, there is no surprised we have so many great products in the market and it seems there is constantly new ones.  It will be hard to try them all or search which one you should consider but that is why I am doing this post.  I would like to share my journey on each product and give my honest review specially when trying them on my crazy skin (sensitive, oily and acne prone).
So which beauty item did I picked for this weeks Fave or Fail?
---
Feature Beauty Item – Too Faced Chocolate Gold Eyeshadow Palette – $49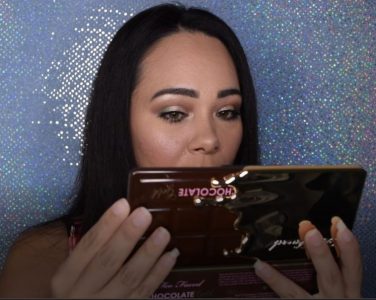 What it is:
A duochromatic matte and metallic eyeshadow palette that's infused with real gold and cocoa powder.What it does:
Take decadence to the next level with this

luxurious gold- and cocoa powder-infused

eyeshadow palette that smells as good as it looks. The foiled shadows are created with real gold for an epic high shine finish. They're paired with rich, seductive mattes to take you from coffee to cocktails. All shadows feature a soft, velvety texture with one-swipe,

full-coverage payoff

. The entire palette is also infused with skin-loving cocoa powder for a decadent chocolate scent.
What it is formulated WITHOUT:
– Parabens
– Sulfates
– Phthalates
---
Last year alone we saw so many new eyeshadow palette launch and the search to pick and buy the best one was a struggle to say the least. Of course if you buy every single one of them which includes drugstore and high end palettes it would be very expensive easily reaching over thousands of dollars.  So for me I like to find the palette that offers a range of good things that my other palettes dont have, and that is why I chose this palette.
Shades Available: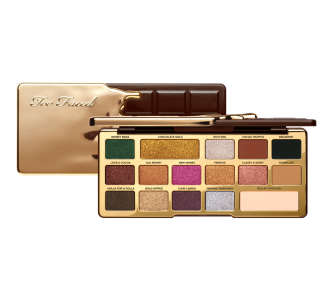 This set contains:
– 14 x 0.03 oz/ 0.85 g Eyeshadows in
Money Bags,
Rich Girl,
Cocoa Truffle,
Decadent,
Love & Cocoa,
Old Money,
New Money,
Famous,
Classy & Sassy,
So Boujee,
Holla For a Dolla,
Gold Dipped,
Livin' Lavish and
Drippin' Diamonds
– 2 x 0.07 oz/ 2 g Eyeshadows in Chocolate Gold, Rollin' in Dough
---
What I love:
Many eyeshadow palettes offer all shimmer, all matte or basic neutral colors.  I notice this palette does work for me since it has the right color for transition shades (matte neutral colors) and the rest of the colors are fun colors to play with.  They have a nice shimmering tone to it which does come in neutral, gold and bright colors as well.. I love how creative I can be with this palette keeping the look simple but with a touch of shimmer.  It did take me a while after purchasing this palette before I used it since it was so pretty to look at jejeje.. But being part of a collab group I choose this palette since it has the green that I needed.
The packaging is so pretty too, it does look like a nice chocolate bar with gold dripping which is why this palette is called Chocolate Gold, inside the colors are very rich and so pigmented.. I normally like to use my fingers when applying a shimmery color to my eyelids but this one surprised me how pigmented it was.
Another thing I love is the scent this palette has, is made of cocoa powder and for that reason you do get the scent of cocoa as you open and apply the shadows on.   Soon this palette might have a dupe making it more affordable in case you dont want to spent the money since it is a high end eyeshadow palette but like most dupes they dont have the cocoa scent which is what makes this palette so unique.
If you have tried this product would love to hear your experience..  Until next week were I will be sharing my week fave or fail…
Have a blessed week..