Let me start by saying that while the granola was baking in the oven you can smell the Oats and Cinnamon or like my kids say it smells like granola bar jejje..
Homemade Granola is a recipe that can be adapted by adding your favorite ingredients and is also a fun way to have your little ones help you make it since it has many ingredients.  Once you divide the ingredients between dry and wet on separate bowls you will see it goes pretty smooth from there.
Based on My Fitness Pal per tablespoon has 40 calories (5g Carbs, 1g Protein).  This recipe makes about 3 1/2 cups which is 56 tablespoons, it can be stored in a glass container or in a zip lock bag.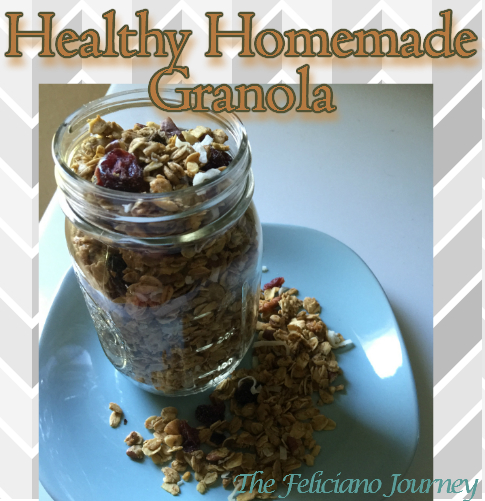 Making your own Granola at home has many benefits and here are a few reasons why I get motivated to make it for my family;
you control the ingredients by basically adding your favorite ones.
you control how healthy it is by not adding unhealthy and unnecessary ingredients.
you can add ingredients you are not so crazy about but you know is healthy for you.
is a fun recipe to make with your family.
can be given as cute little gifts (place in small containers and put cute bow and tag)
can be used in many ways such as

cereal,
as a snack on the go,

toppings

for ice cream, yogurt, pancakes,
you can also get a little more creative by adding peanut butter and shape into a ball and now you have a healthy bites.

add some chocolate chips and/or m&m and now you have granola trail mix.
you can add it to cottage cheese and top it with some fruits too
is cost effective, making this recipe at home can help you save money comparing to the ones you buy at the supermarket.
At first I used to buy my granola at the supermarket even though it was a bit pricey but I thought it was worth the expense. As time went by meaning 2 weeks or so you would notice the granola was getting stale and by then our bag would be almost half way.  Last year, I decided to make my own recipe instead and I was so please with the result that now is something that I prefer to make at home.
As you can see making your own granola at home has many advantages, so hopefully this motivates you on making your own at home too..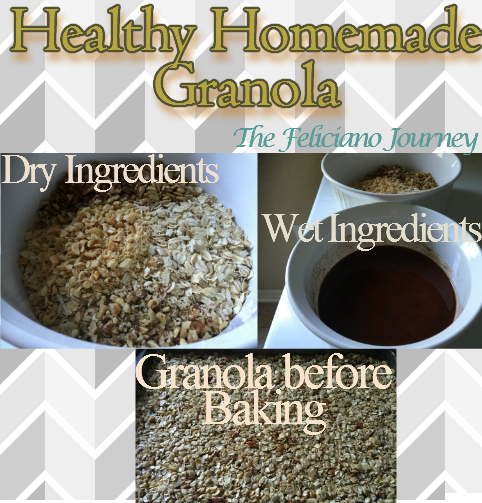 [amd-yrecipe-recipe:10]