When you think of Raspberry and Chipotle the first thing that comes to mind is flavors that are a little sweet, tart with a punch of spice, but blending these 2 ingredients you will get a strong raspberry sweet flavor with no heat.  
This recipe was inspired by a sample taste that was given in Sam's Club, while there a few dip sauces were offered and Raspberry Chipotle was one of them, as I heard the name I told the lady whoa that sounds like a spicy dip and then she told me is not spicy at all instead is rather sweet, so a little hesitant I tried the dip with some chips and at first I was trying to understand the sweetness in a dip with a chip but right after I just wanted to eat a lot more.  
This recipe is easy to make all you need is your ingredients place them in a saucepan, boil and then add your sugar.
As you add your sugar you will see the sauce will thicken, the picture below is before adding the sugar.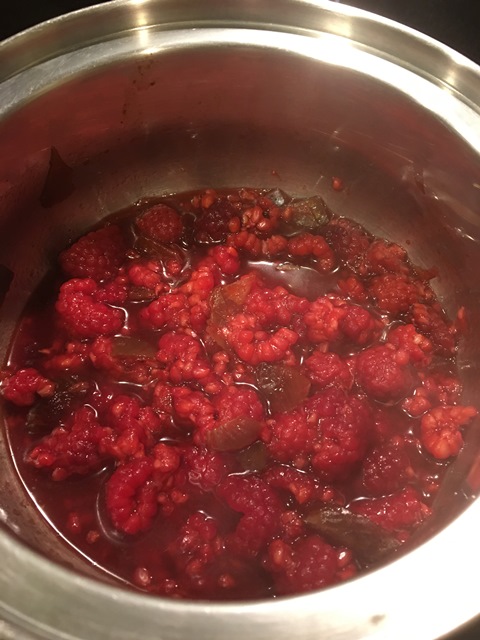 As I went to look for the dip that was shown as a sample, you can quickly see how everyone around me that tried this dip was going to buy a container of there own.  But once we got near they were quickly gone.  So, instead I tried to combine this sauce with a few ingredients and came up with my own dip inspired by those wonderful flavors.
These sauce is used for meats or simply as a dip (combined with other ingredients). 
[amd-yrecipe-recipe:31]
Once sauce is cooled you can use on your favorite dip or use as a sauce for your unique meat recipe.. Enjoy

…