I like to mix it up when making smoothies for breakfast, for lunch or as a snack.  Smoothies is such a good way to add some healthy ingredients, mix and enjoy.  In the spring and summer time this is one of my favorite drinks or meals depending how in a rush I am on that day.  Today I will share a twist from yesterday refreshing low calorie smoothie.
Today, I am working on remodeling my kitchen cabinets and we are going in stages, so to start, my son and I took off the doors, empty the cabinets, sanded a few of the doors, and painted the sanded doors.  As you can see it has been a very busy morning so we needed a quick but fulfilling breakfast/lunch.  Also, keeping in mind that I didnt want to exceed my calories intake, so we made this refreshing smoothie with some veggie burgers.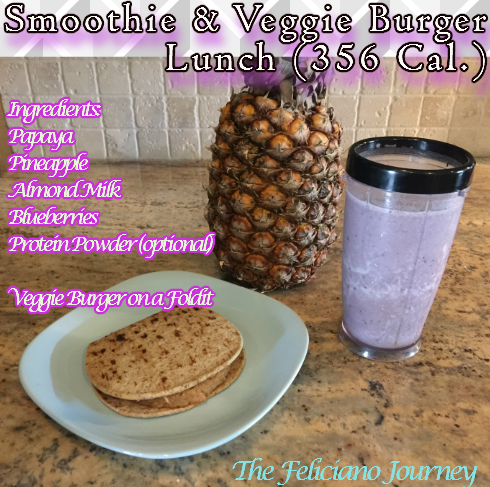 The Smoothie was a total of 123 calories based on My Fitness Pal nutrition facts if you dont want to add protein powder it will be a lot less calories.
Papaya is such a good fruit for you is high on vitamin c, very low on calories, is so refreshing and I also read that it nourishes your skin (many benefits on this yummy fruit)..
Pineapple is a good fruit to consume is also high on vitamin c which helps your immune system.
Blueberries is such a good antioxidant which helps fight of free radicals and is low in calories.
Cellucor Cor Performance Whey Protein Powder has 25g of protein, 3g of Carbs, 2g of sugar on each scoop.
Lets Begin:
Ingredients:
1/2 cup of Unsweetened Almond Milk
1/2 cup of Water
1/8 cup of blueberries
1/4 cup of Pineapple bits (cut fresh pineapple & freeze them)
1/4 cup of Papaya bits (cut fresh papaya & freeze them)
1/2 scoop of Protein Powder (I used Cellucor Cor Performance Whey Cinnamon Swirl)
1/4 cup of ice (optional)
Combine all your ingredients (leaving protein powder for last) I don't like to add any powder first because it sometimes stays in the bottom of the cup.. I love my smoothies to be a little thick so I always add some ice to the mixture but if you like your smoothie not as thick avoid ice all together… Mix and Enjoy…


Blueberries, Papaya & Pineapple Smoothie Nutrition Facts with only 123 Calories (based on My Fitness Pal using the recipe from above)
Good source of Protein, Vitamins, Calcium and is also low on Carbs.
Boca Veggie Burger on a Foldit Flatbread and sprinkle with 1 teaspoon of Sargento Reduced fat sharp cheddar cheese shredded. Nutrition Fact for the burger is 233 Calories (based on My Fitness Pal) 
[amd-zlrecipe-recipe:1]